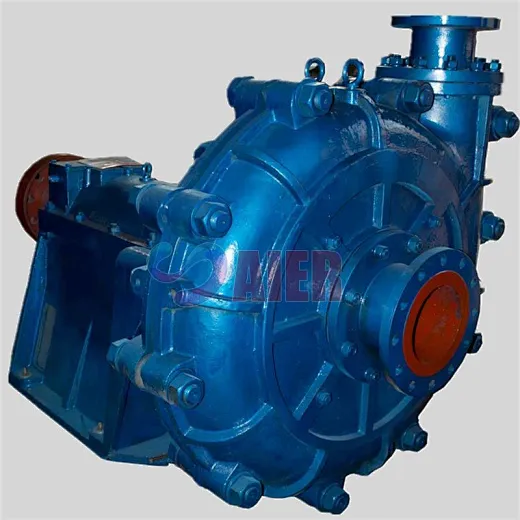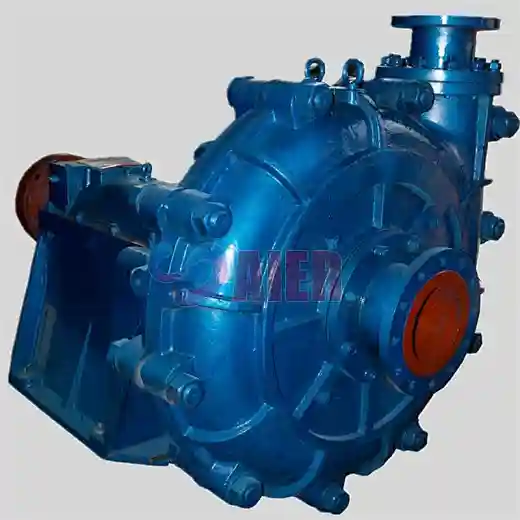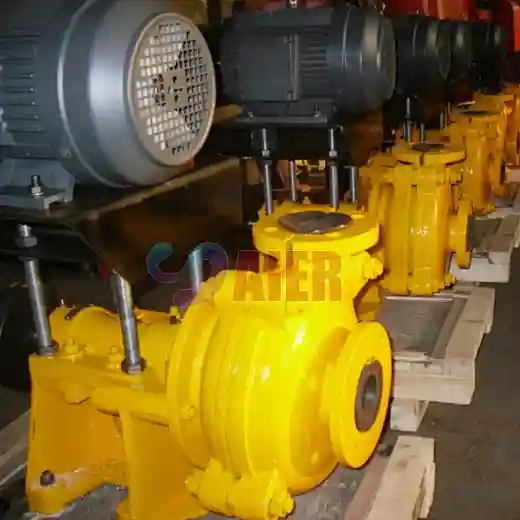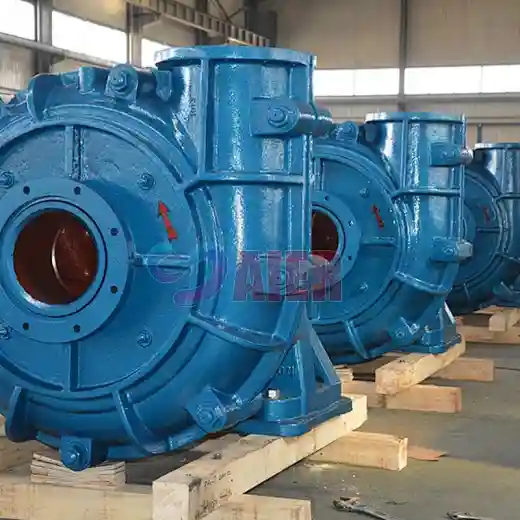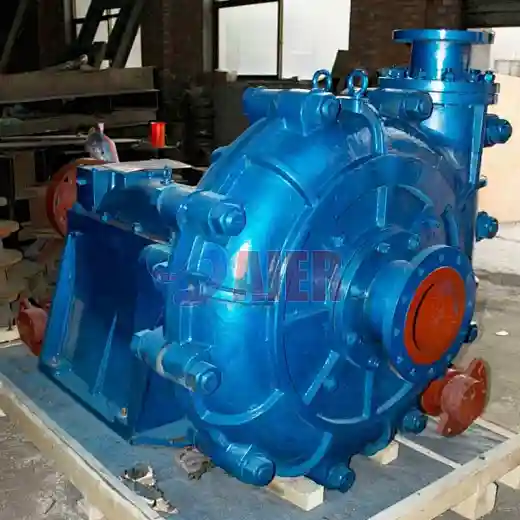 WG High Head Slurry Pump
In order to meet the requirements on the development of the electric power, metallurgy and coal industries, our company has designed and developed WG(P) Series up-to-date general slurry pump with large capacity, high head, multi-stages in series to remove ash & sludge and to deliver liquid-solids mixture, based on the experience of slurry pump design and manufacture for many years
Pump Introduction
SPECIFICATIONS:
Size: 65-300mm
Capacity: 37-1919m3/h
Head: 5-94m
Handing solids: 0-90mm
Concentration: Max.70%
Max.pressure:Max.4.5mpa
Materials: Hyper chrome alloy etc.
AIER® WG High Efficiency Slurry Pump
In order to meet the requirements on the development of the electric power, metallurgy and coal industries, our company has designed and developed WG(P) Series up-to-date general slurry pump with large capacity, high head, multi-stages in series to remove ash & sludge and to deliver liquid-solids mixture, based on the experience of slurry pump design and manufacture for many years, and abstracting the research results of advanced technology from home and abroad.
Features
CAD modern design, super hydraulic performance, high efficiency and lower abrasion rate;
Wide passage, non-clogging and good performance of NPSH;
Expeller seal combined with packing seal and mechanical seal have been adopted to guarantee the slurry from leakage;
Reliability design ensures long MTBF(mean time between events);
The metric bearing with oil lubrication, reasonable lubricating and cooling systems ensure the bearing to be operated under low temperature;
The materials of wet parts have good performance of anti-wearing and anti-corrosion;
The pump can be used for seawater ash removing to prevent it from the corrosion of seawater, salt and mist, and electrochemical corrosion;
The pump can be operated in series with multi-stage within permissible pressure.
The pump has the advantages of reasonable construction, high efficiency, reliable operation and easy maintenance. It can be widely used for handling the mixture contained of abrasive and corrosive solids in electric power, metallurgy, mine, coal, constructional material and chemical industry departments, especially for removing ash and sludge in electric power station.
Pump Notation
100WG(P):
100: Outlet diameter (mm)
WG: High head slurry pump
P: Multi-stage pumps (1-2 stage without the mark)
WG slurry pump is of horizontal, single stage, single suction, cantilevered, double casing, centrifugal slurry pump. The pump rotates in clockwise viewed from the drive end.
The wet parts of WG and WGP pump at the same outlet diameter can be interchangeable. Their outline installation dimensions are the same as well. For the drive part of WG(P) slurry pump, the horizontal split frame with oil lubrication and two sets of water cooling systems inside and outside has been adopted. If necessary, cooling water can be supplied. The prepared joint for cooling water and the pressure of the cooling water can be see in the table 1.
Two kinds of shaft seal – expeller seal combined with packing and mechanical seal.
The mechanical seal supplied with high pressure sealing water is recommended when the pump is operated in series, and the expeller seal combined with packing is used in single-stage pump.
The water pressure and amount of all kinds of shaft seal is as follows:
1) Sealing water pressure
For single-stage pump with expeller seal combined with packing, the water pressure of the shaft seal is 0.2-0.3 Mpa.
For multi-stage in series operation with the expeller seal combined with packing, the sealing water pressure should be: The lowest sealing water pressure of n stage = 
Hi + 0.7Hn Where: n ≥2.
For mechanical seal, the sealing water pressure of every stage of pump is higher 0.1Mpa than the pressure at the outlet of pump
2) Sealing water pressure (see table 1)
Table 1: sealing water parameters
 
Pump Type
Frame
Sealing Water
(l/s)
Sealing Water Joint
Cooling Water Joint
 On Frame
Cooling Water Pressure
65WG
320
0.5
1/4"
1/2", 3/8"
0.05 to 0.2Mpa
80WG
406
0.7
1/2"
3/4", 1/2"
100WG
80WGP
406A
100WGP
150WG
565
1.2
1/2"
3/4", 3/4"
200WG
150WGP
565A
200WGP
250WG
743
1"
300WG
250WGP
743A
Construction Design
Pump Part Material
Part Name
Material
Specification
HRC
Application
OEM Code
Liners & Impeller
Metal
AB27: 23%-30% chrome white iron
≥56
Used for higher wear condition with pH between 5 and 12
A05
AB15: 14%-18% chrome white iron
≥59
Used for higher wear condition
A07
AB29: 27%-29% chrome white iron
43
Used for lower pH condition especially for FGD. It also can be used for low-sour condition and desulfuration installation with pH no less than 4
A49
AB33: 33%-37% chrome white iron
It can transport oxygenated slurry with pH not be less than 1 such as phospor-plaster, nitric acid, vitriol, phosphate etc.
A33
Expeller & expeller ring
Metal
B27: 23%-30% chrome white iron
≥56
Used for higher wear condition with pH between 5 and 12
A05
Grey iron
G01
Stuffing Box
Metal
AB27: 23%-30% chrome white iron
≥56
Used for higher wear condition with pH between 5 and 12
A05
Grey iron
G01
Frame/Cover plate, bearing house & base
Metal
Grey iron
G01
Ductile iron
D21
Shaft
Metal
Carbon steel
E05
Shaft sleeve, lantern ring/resctrictor, neck ring, gland bolt
Stainless steel
4Cr13
C21
304 SS
C22
316 SS
C23
Joint rings & seals
Rubber
Butyl
S21
EPDM rubber
S01
Nitrile
S10
Hypalon
S31
Neoprene
S44/S42
Viton
S50
Performance Curve
Installation Dimensions